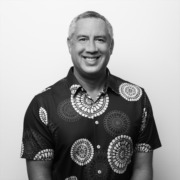 Aloha! I'm Jon Brath. My mother is a Native Hawaiian from the island of Maui and my Dad is your average caucasian from Portland. I grew up on the very small island of Molokai, where my Dad was a dentist. The locals grew to love him and include him in the ways of the island. Sometimes he would even accept payment in the form of produce as some patients had little money. I share this because some people think that Hawaiians don't like people from the Mainland. What Hawaiians don't like is people trying to change our precious Hawaiian lifestyle. Caring for 'Kai' (ocean) and living off the 'Aina' (land) is a way of life for Hawaiians. Tourists are a part of life in Hawaii as they are a huge driver of our local economy. 
When I was fifteen, my parents sent me to a private school on the Mainland in Portland. It took me a little while to fit in because my background was so different. Yet, the friendships that I made there continue to this day and continue here on Maui. I met my wife when I was living back on Maui as we both worked for the Hyatt Regency Kaanapali. 
When we were pregnant with our second child, we decided to move the family to Phoenix, AZ where my wife was from. The cost of living was so much less than on Maui and it was very sunny-sometimes too sunny! You can have more space at a lesser cost on the Mainland, though nothing compares to the magic that Maui offers. 
I found my calling in real estate sales in Arizona in 2004, as Arizona was booming. I sold new homes for five years with a large national builder until the Great Recession. I then became an REO listing specialist, which means I sold foreclosures for banks. I sold over 225 homes with my wife and three amazing assistants in 2011. It wasn't a very fun job yet I am glad for the experience. A few years later my wife looked at me one day and said "I miss living by the ocean, can we move back to Maui?!" What a brilliant woman I married! 
By 2014 the Brath Ohana moved home to Maui! I tried my hand at selling timeshares as it's big business here. I struggled with it for five years before I got over my limiting beliefs about selling true real estate on Maui. I started in traditional real estate in December 2019, and by March, the island shut down due to Covid. No longer could visitors come to the island, neither friends nor tourists. I took this opportunity to surf more and create dreams2REALITY Hawaii. We are a real estate group focused on helping people buy vacation rental condos on Maui. 
While staying on Maui can be expensive, some have discovered that it can pay for itself and then some. Remember my Portland friends from earlier? Well, my friend B owns a vacation rental in Lahaina that produces five-figure checks. A former colleague owns a vacation rental condo in Napili. This property funds her life of full-time travel around the world. Using our dreams2REALITY Method we can also help you create income and lifestyle on Maui. Enjoy your future, TODAY!