Four Buying Insights Maui Homebuyers Wish They Knew Before Purchasing a Home
Posted by Jon Brath on Tuesday, October 4, 2022 at 2:06 PM
By Jon Brath / October 4, 2022
Comment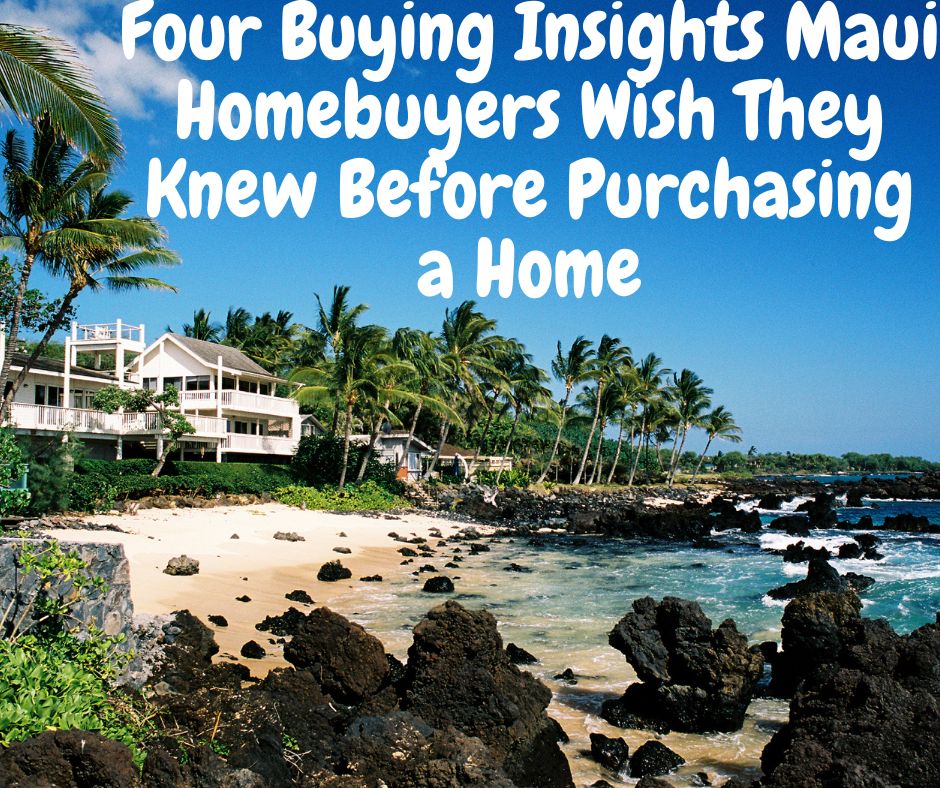 Nearly all of us at some point in our lives have gone through the regret of buyer's remorse when purchasing something. For some, it may be the small and maybe laughable event of getting an embarrassing and trendy haircut, and for others, it might be regret of a large life-changing investment gone wrong.
Recently with the huge wave in competition to quickly snatch up homes over the last couple of years, there are several homebuyers who are feeling the large sting of buying remorse. Some homebuyers are now feeling that they would have much rather taken their time in their home purchase instead of feeling the pressure of high competition and rushing to buy a home.
Purchasing a home is a huge process and commitment. Not just because most people are spending the largest amount of money on a single item they may ever purchase, but also because of all of the details, legal jargon, and more.
If you were considering buying your first Maui home it is always best to do as much research as possible about the home-buying process before you do so. Even if you are purchasing your second home you may want to refresh yourself on the process as things in this current real estate market have vastly changed.
Here are four top real estate buying insights home buyers wish they knew before making a new home purchase.
Be Patient
Today's current housing market is very competitive. It is definitely a seller's market. Though the competition has cooled down greatly as compared to the last two years there is still a good amount of competition and a low inventory of available homes. Over the last few years, several buyers found themselves feeling the pressure to hurry up and get into a home and it has caused some of them to regret the home they actually did purchase.
It can be extremely frustrating and discouraging if you don't go into the buying process with a patient outlook even now as things are beginning to cool off with competition. It is best to keep in mind what you truly need and want from a Maui home and make sure that you hire someone that will help you stick to those goals even if it means taking a little bit longer to find that perfect home.
Don't get impatient and settle for something you don't truly want that won't fit your lifestyle needs.
Be Knowledgeable of the Pre-approval and Loan Processes
From the very beginning of home loans being offered, it has always been important to have healthy finances to obtain a loan. Now more than ever, it is important to have meticulous knowledge of your financial status. As mortgage rates increase it can become frustrating to find a loan product but with the right knowledge and expert help as well as knowing your personal financial status you can be successful in securing a good loan.
There are several steps you want to avoid making when you are in the middle of approval for a mortgage loan. Don't co-sign for other loans, make large purchases, apply for new credit during the approval process, etc.
Now more than ever mortgage underwriters are scrutinizing every detail of a mortgage applicant's personal finances to ensure that they have done their job and made sure that the loan applicant at the time was fully capable of repaying the loan. This means that you do not want to make any haste decisions while the underwriter is going through your personal financial details with a fine tooth comb.
Do the Work of Finding an Expert Local Realtor
Working in real estate has the promise of being a very lucrative job. Especially if you are selling high-end properties or properties that come with larger price tags like many here in the state of Hawaii and on the island of Maui. You want to make sure that you are finding a realtor that knows every aspect of the island of Maui to give you the best insight into where to find the home and type of neighborhood you are dreaming about. You do not want to find just any realtor hoping to make a large commission from finding you a home.
You don't want to hire just anyone that you find off of an ad from scrolling through social media or work with an agent because they are a friend of a friend. You want to make sure that you interview and do your homework on an agent before hiring them to make sure that they are the best fit for you personally and that they truly know their business.
Thoroughly Inspect the Property
When purchasing a home most of the burden of knowing the current condition of the home is on the home buyer. There are some legal protections in place that require a home seller to disclose information that they know about their property, but making sure a home is safe and livable and going through the due diligence process is mostly the responsibility of the home buyer.
Over the last few years, we saw many real estate news headlines of home buyers waiving contingencies, especially the inspection contingency. It is never a great idea to forgo having an inspection done on a property unless you are purchasing a fixer-upper and are well-versed in construction and real estate yourself with plenty of money and preparation to make repairs.
As the buyer, you want to do everything possible and inspect everything, and exhaust every avenue of making sure you know every detail about the condition of the home you are about to purchase. Even brand-new construction homes will have issues that need to be addressed. Don't expect any home to be in pristine perfect condition with no issues but make sure that you know that you have done everything to the best of your ability to make sure you are purchasing a good product.
There's nothing quite like being a homeowner on the island of Maui. Let us help you find an area of Maui that you love. For more information, on available Maui real estate please contact us anytime.