How to Avoid Pet Quarantine When Moving to Maui
Posted by Jon Brath on Friday, October 14, 2022 at 3:00 PM
By Jon Brath / October 14, 2022
Comment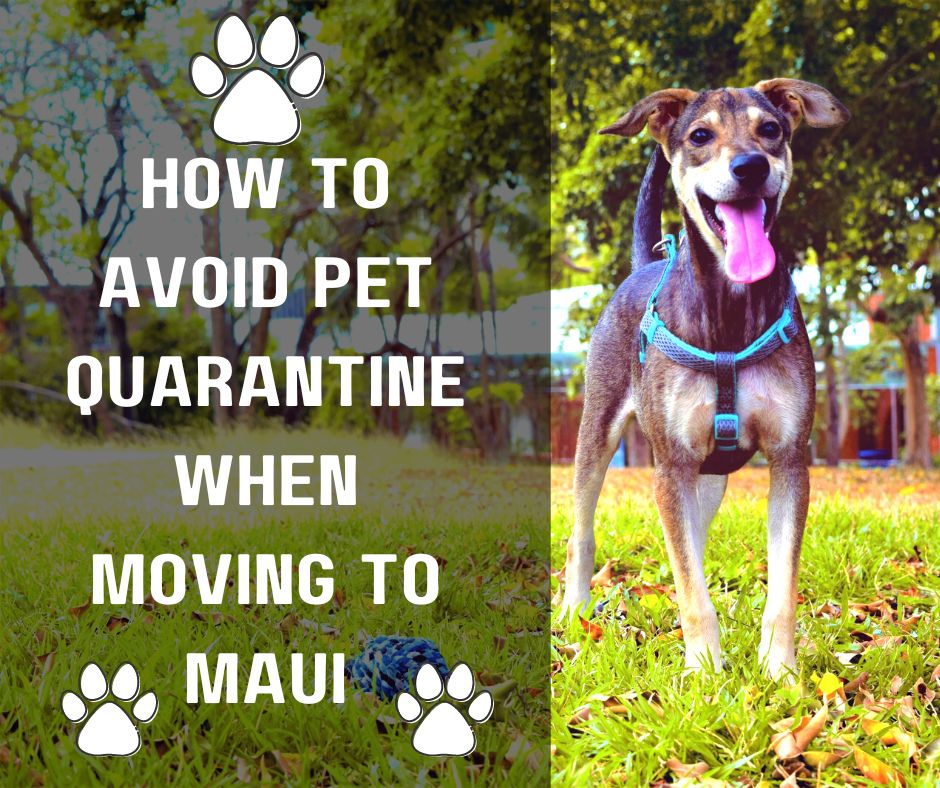 When anyone is planning a move to any location their main focus tends to be on making sure mortgage paperwork is in order, fulfilling all legal requirements of the purchase, and putting belongings into boxes. While moving our pets may be on our minds, most of us probably aren't too worried about getting them from the old home to the new one. We just pack them up and go.
But moving a pet from any location outside of Hawaii to one of the islands is a bit different. Hawaii has a strict procedure for bringing pets to the state from outside locations. One thing you want to avoid when moving to Maui is the dreaded 120-day quarantine. With the right preparation, you do not have to be subject to this dreaded long pet quarantine.
Here are some useful tips for moving your pet to Maui without Quarantine
Plan Ahead WAY Ahead
It is advised that you start the process of getting paperwork and preparations in order to move your pet to Maui at least four to 6 months in advance. You can ask your vet for advice on moving your pet and preparing them for transportation to the island, most often this is airplane travel.
You want to make sure you know everything required of you by the state for moving your pet and follow the instructions exactly. This is important it can be the difference between having your pet right away or waiting a few more months to bring them home.
There are two other options outside of the long quarantine period in Hawaii, they are Direct Airport Release and a 5-day or less quarantine. But in order to qualify for these, you must be in compliance with the entire required preparation checklist. This entire checklist must be completed and proof turned in 30 days prior at the very least to your move. It is always best to allow a longer time period to account for any hiccups/mistakes/confusion.
Microchips are Required
If your pet is not yet microchipped you will need to make sure that you have your pet microchipped. This is not an option, any pet without a microchip will automatically be put into the 120-day quarantine process. Not only does a microchip allow you to track your pet should it get out of your sight or care it also helps with the FAVN rabies antibody blood test that is also a requirement of moving a pet to Hawaii.
If your pet is already microchipped don't just assume that everything is in order make sure that the number is correct and the microchip is still in working order.
Rabies vaccination
This vaccination is mandatory and extremely important in the process of moving your pet to Hawaii as the main reason for all of the scrutiny in moving your pet is that Hawaii is rabies-free and they are diligent in remaining so. The requirement for rabies vaccination in pets is that pets need to have two rabies vaccinations in their lifetime given more than 30 days apart. Your pet's most recent rabies vaccination will need to be more than 30 days before your move. If this is not done your pet might face a 30-day quarantine when arriving. Make sure that you retain copies of all the paperwork that clearly states the date and type of vaccine as well as any health certificates.
FAVN rabies antibody test
This is a mandatory test required by the state of Hawaii for moving pets into the state. You can receive this test through your vet and make sure that you clearly communicate to your vet that Hawaii is listed as the destination for your pet's lab submission form when you do the antibody test.
Sending in the paperwork and making reservations for inspection
You want to make sure that you have every single piece of paperwork required on the checklist and that it is all submitted through copies making sure you retain the originals so that nothing gets lost. This should be submitted at the very least 30 days in advance. It is good to note that since the pandemic began processing times have been a little bit slower. An ideal timeframe to make sure that everything happens on time is about four months in advance if possible.
It is a good idea to make your reservation to have the veterinary inspector meet you right at the airport when you arrive with your pet in Hawaii. This ensures the least amount of quarantine time if any. Here is a list of numbers on Maui that you can call to set up an airport inspection:
At Home Animal Hospital & Mobile Veterinary Services (808) 873-0102
Central Maui Animal Clinic (808) 893-2380
Kahului Animal Hospital (808) 871-7387
Kihei Veterinary Clinic (808) 879-5777
Makawao Veterinary Clinic (808) 572-9003
Maui Humane Society (808) 877- 3680
South Shore Veterinary Care (808) 874-3422
West Maui Animal Clinic (808) 662-0099
After calling one of these veterinary clinics they will contact the animal quarantine station that your pet is registered for an inspection and release. When this is done you will be expected to pay vet fees for the services.
Make sure you have your permit before getting on the plane
Once all paperwork is accepted you will receive what is called a neighbor island inspection permit. This is basically a ticket confirming that all of your ducks are in a row for inspection and release. If you need paperwork processed in a more timely manner it is helpful to include a prepaid overnight envelope for FedEx or UPS to receive the permit. It is crucial to have this permit on you when traveling with your pet. It is also a good idea to check in with your airline to make sure you know exactly where your pet will be located during the flight.
It may seem like a crazy and complicated process to get your pet to Hawaii with you but it can actually be very simple when done in a timely manner and all of the items are completed.
For more information on moving to Maui including Maui island real estate please contact us anytime.