Items You Don't Need to Worry About Fixing Before Listing Your Maui Home
Posted by Jon Brath on Friday, February 17, 2023 at 12:56 PM
By Jon Brath / February 17, 2023
Comment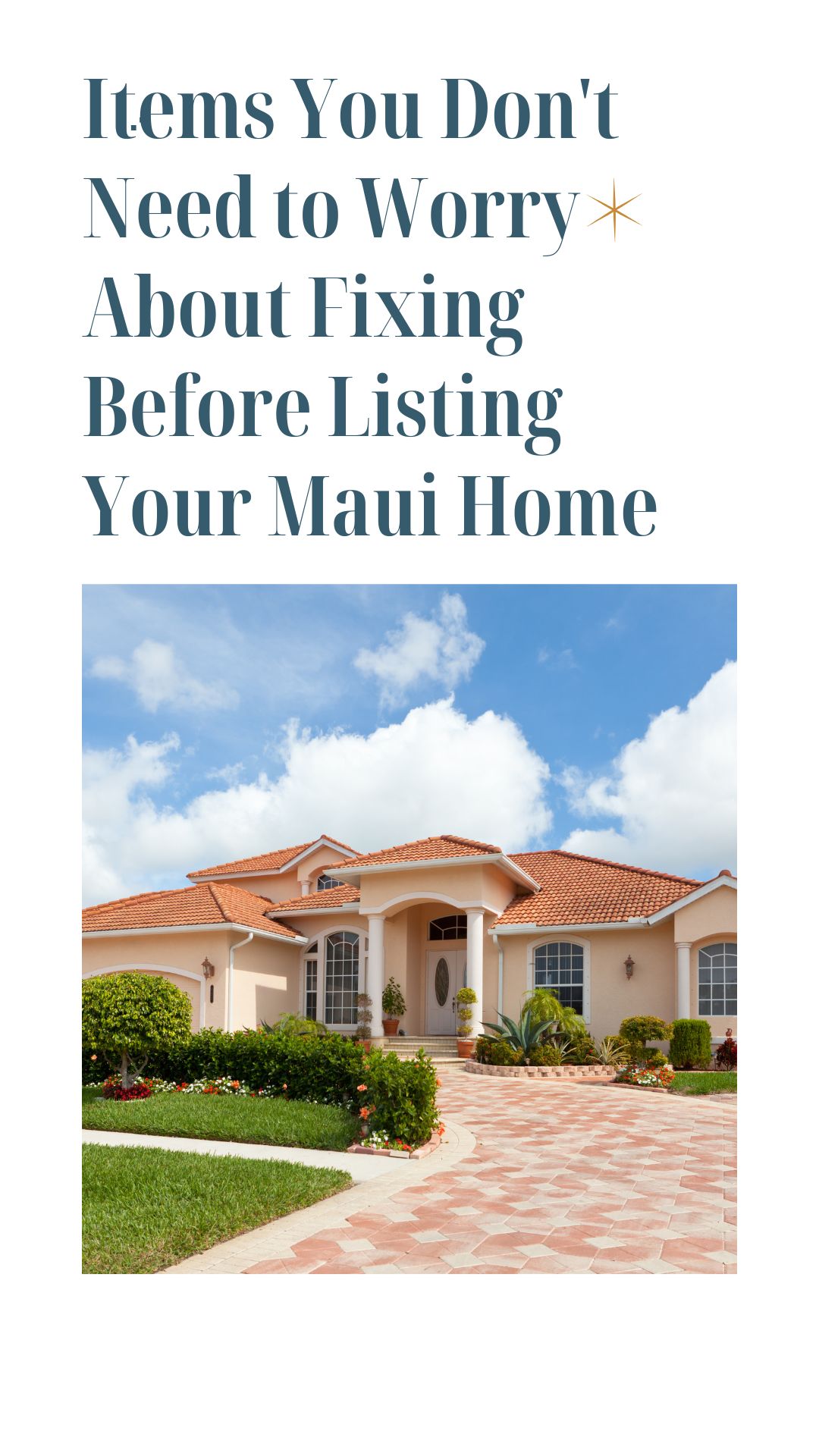 When it comes to selling a home in Maui, you want to make sure that it is in a great presentable condition to appeal to the largest amount of buyers possible and bring in a top-dollar offer. That being said some homebuyers quickly become overwhelmed and stressed out with trying to get their home in pristine condition before they list it.
While you should not completely ignore all spruce-ups and repairs, there are some home fixes that are OK to leave undone when you list your home available for sale. The reason is that they do not make a huge impact on the overall livability of the property.
Here are some repairs that Maui homeowners don't need to stress themselves out with
Cracks in the driveway or walkway
Though these items may feel unsightly to you and probably have always bothered you and you have meant to get around to fixing them, they are not an incredibly huge deal when it comes to selling your home. While it is said that curb appeal is important to a home, this part of your curb appeal really isn't a huge issue. Unless your driveway has a crack that causes it to be concerningly uneven or there is a giant divot in the middle of it you can leave these things alone.
Performing a partial upgrade
If you are thinking of starting an upgrade to bring an area of the home up to date but do not have the time to follow through on the upgrade it is better just to leave it alone altogether. Performing a partial upgrade will only bring more attention to the fact that the room is feeling old or tired. Unless the room is overwhelmingly ugly it is best not to stress out about getting an upgrade done. And even if it is ugly and you do not have time to finish it before you need to move it is best just to leave it alone and negotiate the price of bringing it up to date with any potential buyer.
Minor electrical
Some electrical issues are a safety concern and as such should be fixed before listing a home for sale. On the other hand, some home electrical issues are small and do not make an impact on the safety of the home. This can be things like loose outlet plugs, a switch that seems to go to nothing, or maybe a dead outlet. The inspection report will make note of these but they will not red flag them as a safety issue that needs to be addressed before a new owner takes over the property.
When it comes to fixing up your home and getting it ready to sell it is always in your best strategy to hire a trusted local real estate agent that can walk through the property with you and give you tips and insight on the best places to pay attention to in order to get your home ready for photos and listing.
For more information on selling a home in Maui please contact us anytime.