Maui County Plans to Regulate Fractional Home Ownership
Posted by Jon Brath on Friday, April 7, 2023 at 11:00 AM
By Jon Brath / April 7, 2023
Comment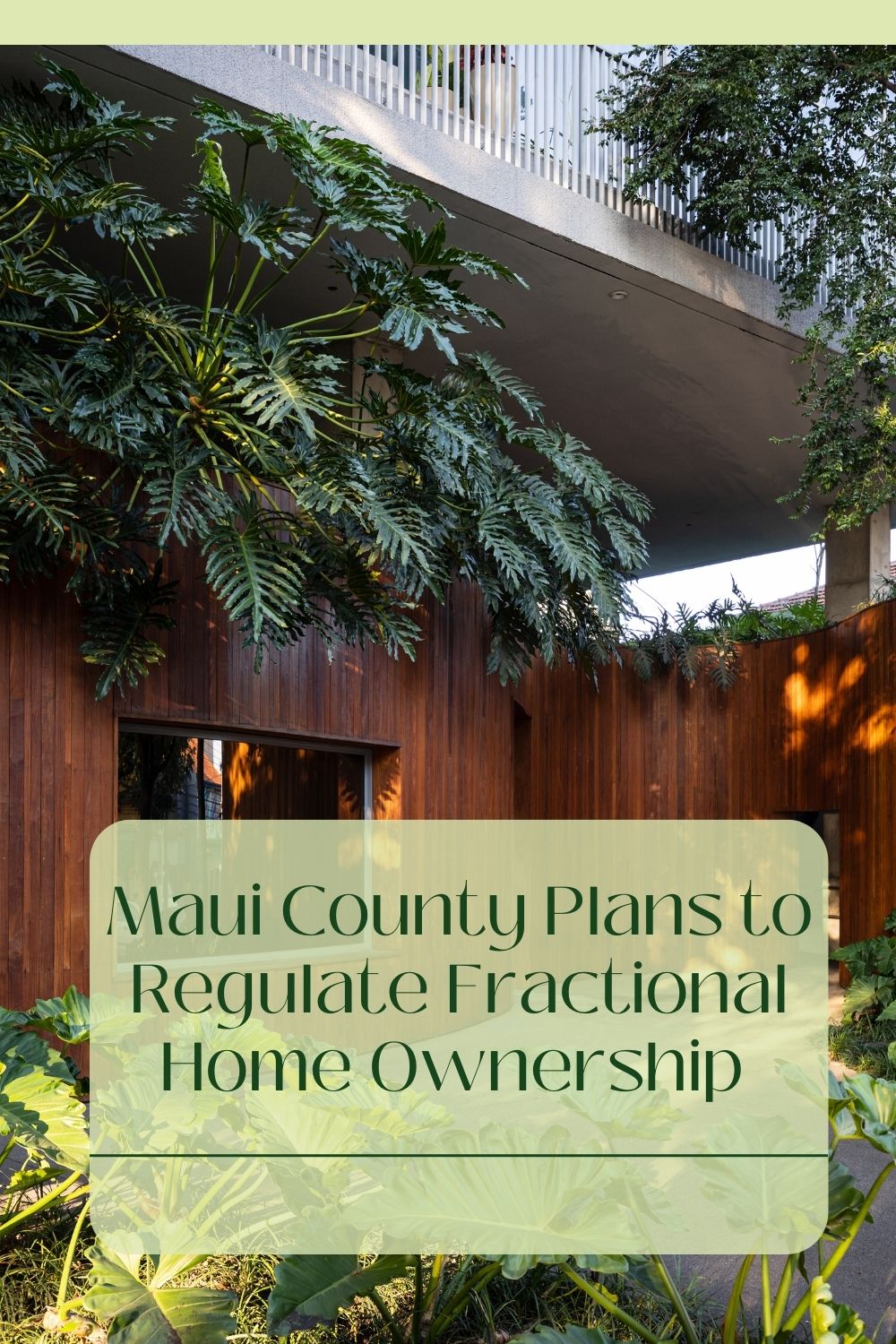 Fractional home ownership is the latest vacation property ownership model to come to the real estate market. There have been a few very new companies that have offered this vacation ownership model. These companies say that their focus is on being able to offer vacation home ownership to hopeful buyers in a more affordable way.
However, there are some that are skeptical of this business model for vacation home ownership. Some of the skeptics are from locations, where vacation properties are in high demand like here in Maui County. A recent county council measure would expand the definition of a timeshare in hopes to limit this new way of selling vacation properties.
This measure was proposed after residents of Maui heard about tech start-ups buying and selling shares of luxury vacation properties on the Internet. The council heard many concerns from those living in Maui and listened and is now looking at regulating the ability of more companies to purchase properties for the purpose of fractional ownership.
What is fractional homeownership?
With fractional home ownership, an investment company purchases a property and then fixes it up and finishes it, and sells the home into individual shares. Most often any property is sold between eight and 12 individual shares. The company that sells the property retains no ownership and everything is run through a limited liability corporation. The company that sells the property does retain management on behalf of the limited liability corporation. So the property is now under the ownership of several new owners and managed by the original selling company.
Changing Maui's definition of a timeshare
Council members began to work on a proposal to tweak Maui County's definition of a timeshare in November. They have done so in hopes to get a handle on more companies using a fractional homeownership model. They are hoping to limit the number of investment property vacation buyers selling shares of properties to multiple owners.
The previous definition of a timeshare in Maui County was defined as any scheme or arrangement allowing an owner or member to divide stays up for periods of 60 days or less. The new proposal from the Maui County Council would change this to 180 days or less. This is the current parameter to define transient properties such as vacation rentals.
Some local housing communities have also changed their parameters
Upon hearing of one fractional home ownership company called Pacaso some housing communities on Maui have also changed their parameters to make it more difficult for these types of companies to come in and purchase more properties. They are hoping that properties with several owners will not be able to come in and change the environment of desirable communities.
One of these includes the Wailea Community Association. They have reported strengthening their neighborhood rules to ban timeshares as their residents raised some concerns about fractional home ownership models within the community. The Community Association changed the rules by not only gaining support from homeowners within the community but also support from the seven surrounding hotels in the area.
Maui County Council's main focus, of course, is to help keep balance in the Maui real estate market so both vacation homeowners and full-time Maui residents are able to purchase properties within a fair means. Maui is a very desirable vacation destination and welcomes vacation homeowners within reason that would bring balance and keep full-time Maui residents within reach of their home ownership goals.
If you are interested in purchasing a vacation property in Maui we would love to help you find a great property that fits your wants and needs.